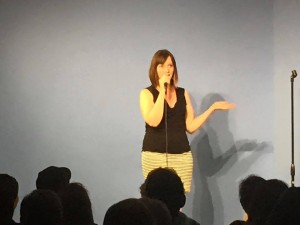 A few weeks ago, I faced a fear. I performed stand up comedy for the first time, for a full house.
It was the culmination of a 7-week course that I took for fun (and to stretch my performance comfort zone).
I never thought I would be brave enough to take a class on standup comedy, let alone one that ended with a 5-minute set in front of 50+ people!
However, I met someone else who took the class several months ago and I was so impressed by the student showcase, that I knew I had to give it a try.
Not only did it turn out well, but I was reminded of several entrepreneurial principles that were completely reinforced by my experience learning comedy. Here they are- in no particular order. See if they inspire you to breakthrough to the next level in your business.
It's not as scary as you think
Standup was much scarier in my head than it was in real life! Can you relate? Sure, I had some adrenaline before stepping on stage, but when it came down to it, it was about being present and trusting the process. No one threw tomatoes, I was not awkward (I had practiced after all), and I had a lot of fun. Not just that- I actually wished I had explored this skill set sooner!
I used to think running my own business would be super scary too. In fact, I held on to my "steady" jobs for a few years because the idea of going FULL TIME on my own seemed just a little bit terrifying. Having pursued this path now for some time, I love being my own boss and expressing myself through my business. Now, there is no going back!
You can get there faster, with a mentor and a process
If I had tried to teach myself standup comedy, the results might not have been as good! But by working with a Stand Up Comedy mentor, and using a proven process to master comedy basics, I was able to accelerate my learning and put up a great product in a matter of months.
Isn't it the same with business? This is why we hire coaches, mentors, invest in courses, etc. because it is faster and produces a better quality product. What a fun surprise it was to experience this is the comedy world also!
Action is the best confidence builder!
If you asked me about my confidence doing standup comedy a couple of months ago, I'd say-- slim to NONE! But after getting up there just one time, my confidence is totally changed. I got to feel what it was actually like to stand up there and tell jokes, I got to hear the sound of the audience laughing at the punchlines, I got to feel the sweet sweet energy exchange of a room full of connected, present people. And now I have a whole new level of confidence that I could do it again, or more frequently, if I wanted.
If you don't feel 100% confident about your business at all times, welcome to the club! Growing brings up discomfort, vulnerability, adrenaline, but if you keep taking action, you'll realize the things that scare you now are very different from the things that scared you a few months ago. Plus, your confidence will grow by leaps and bounds, as you continue to realize this truth: You can do anything.
--
Enjoy this blog? Share with your friends!
Now, I want to know:
What do you think of these business building principles? Any you would add to the list?
What fear, or personal development challenge, would you like to break through this year?
Join the discussion! I'd love to see your presence in the comments below.