I never thought I'd love numbers so much. As a "right-brained" creative, I always felt an inner aversion to numbers, spreadsheets, and regular data entry.
But there was a point when I realized that "knowing my numbers" was essential if I wanted to take my business (and life) to the next level.
I wanted to start out small, so I could build the new tracking habit, without getting overwhelmed. I asked my coach, if you only had to pick 3 or 4 things, what are the most crucial elements to track-- to stay on track?
We came up with 4 important categories that can be used to simply track some of the most critical elements to your business success (particularly if you are a solo-pro, and balancing both client delivery, sales, and many other hats).
Here they are:
Track Your Hours
How many hours did you work over the past week?
Why you want to track this: Could you be putting in more time to reach your goals? Or, are you exceeding your desired weekly hours and need to find a way to get everything done more effectively? You won't know if you're not tracking!
Track Your Intro Calls/Packages
(Could be a "consultation," introductory session, or intro package, depending on your unique service and sales process).
How many meetings did you have with new clients over the last week?
Why you want to track this: Based on your money goal for the month, you can work backwards and ask yourself how many sales you'll need to reach your goal. Based on that number, how many new client conversations would you need to convert, to reach that goal? (Hint: packages and programs are typically more supportive to you reaching your goals-- and better for the client too- than selling "by-the-hour" services).
From here on, you get to set goals for # of intro sessions, and see how you are doing week to week, to attract your desired number of these meetings.
Track Your New Sign Ups
How many new clients did you get this week?
Why you want to track this: Based on the number of intro sessions and the sign ups that follow, you now know your "conversion rate." This will give you a sense of how many intro sessions you need to reach your goal, and allow you to set goals to increase your conversion rate with the same number of introductory sessions, or by increasing them.
By doing this, you take the mystery out of your marketing, and show yourself that reaching your financial goals can be predictable and achievable.
Power tip: Allow yourself to experience a moment of gratitude when you record a new client on your tracking sheet. What you appreciate will show up more! 🙂
Track Your Weekly Income
How much $$ did you make over the past week?
Why you want to track this: Money is an external feedback loop that your marketing is working, and more of it allows you to run your business sustainably (and enjoy the fruits of your labor!). You can see how close you are to your goal (or when you are exceeding your goal) by tracking your weekly income.
A Habit Worth Building
If you've ever been challenged by a new habit- waking up early, or exercising, for instance- you know that there is a whole lot of goodness waiting for you on the other side of the habit-building process if you stick with it.
As you start a new year, there is no better time for you to begin-- or re-commit-- to track these business essentials.
To inspire you, here is what my first 5-figure month looked like, via my tracking sheet.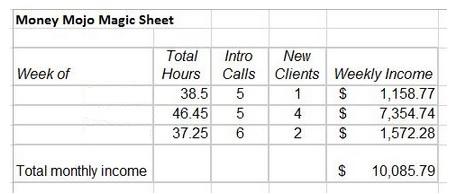 Notice that it only took an average of 5 intro calls a week done consistently to reach a monthly revenue of $10,000+. Simple. Straightforward.
(Of course there were other elements in play that helped me reach my goal, like talking to the right people, having solid packages + offerings, etc. But, it was the habit of scheduling those consultations consistently that allowed me to reach and exceed my goal).
With a willingness to build important new habits, the potential for your business and income are limitless.
Truly, your business dreams are just a few success habits away.
xo,
-Danielle
—
Enjoy this blog? Share with your friends!
Now, I want to know:
What key insight are you taking away from this blog?
Are there pearls of wisdom from this post that would help others in your network?