I knew I had to interview Slomo. I must interview Slomo. At the very least, I wanted to have a few words with him.
But first, let me explain.
Slomo, is Dr. John Kitchin, a former Neurologist affectionately called Slomo by the community and himself, to honor a daily ritual he has enjoyed for over seventeen years.
Every day, often at sunset, Slomo, rollerblades down Mission Beach, moving his body in slow motion. He often brings along upbeat music that sings as he glides. He also often "plays around" with making extreme facial expressions, like grinning from ear to ear in an almost cartoonish sort of way. Okay, sometimes in a totally cartoonish way. 🙂
When we first came across Slomo a year ago, my boyfriend and I didn't know what to think. Was he insane? Was he a genius? Did he know about the connection between our physiology and the brain? He must have been a genius, he looked so happy. Everyone around him would get happy as he passed by. I mean, who was this guy!?
We didn't know that he happened to be a former overworked neuro scientist turned advocate for being "in the zone," and that his sunset adventure on rollerblades was a daily affair.
Not until we discovered a NY Times Documentary on Slomo. It is truly inspiring...and if you haven't seen it you can check it out here:
Guess he wasn't crazy after all.
After watching the documentary I knew I had to interview Slomo. My boyfriend and I have a ritual of our own, traveling away from rainy Portland, OR to sunny San Diego at the top of the year, so we were in prime position to meet face to face. In fact, we were staying blocks away from Slomo's daily path.
In addition to personally finding Slomo to be an inspiring and overall badass person, I thought my community would be interested in asking him questions too. While Slomo isn't an entrepreneur he is a kindred spirit. He found freedom by being a rebel and forging a new uncharted path. Isn't that what we're doing as entrepreneurs?
Would my community feel as drawn to him as I was? And what would they want to ask him? Turns out, lots!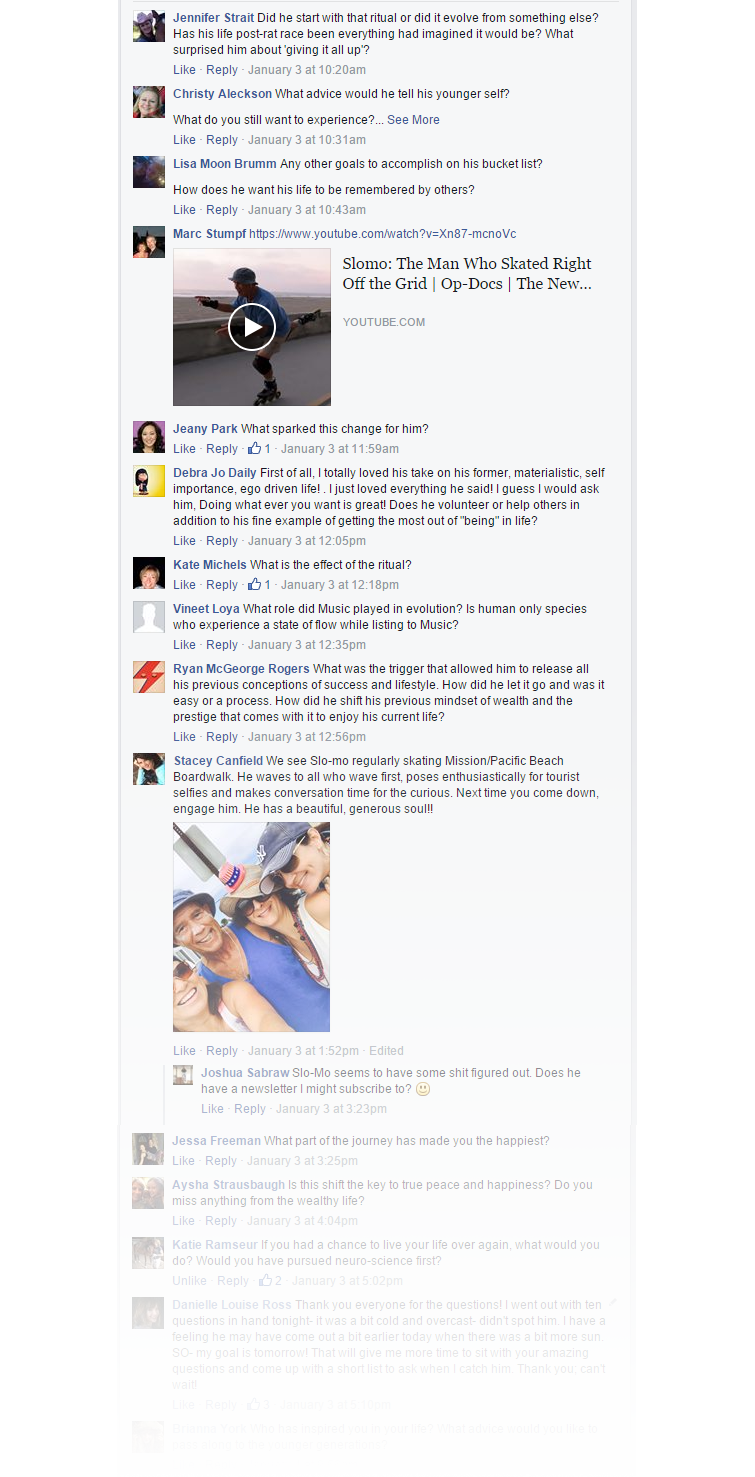 I didn't know what it would be like to interview Slomo. In order to even have a conversation with him, I'd have to momentarily take him off his course.
I had set my intention on interviewing him on a Wednesday. Even though we had taken many Sunset walks, and we didn't always cross paths with Slomo, I knew today would be the day.
When we first saw Slomo, my heart started beating quickly. We made a signal to him to stop...could we chat? But Slomo just gave us a thumbs up and rolled on by. Fail! Luckily, he had to come back the way he came, so we expected in ten minutes or so, he'd turn around and we'd have another shot at it.
Interview Part One: Rollerblades, The Boardwalk, and The Kingdom of God
With a more committed wave down, Slomo stopped to talk with us. He didn't want to stop long, because he said he was "playing with something," a mantra or something he was thinking about as he did his ritual today, and he wanted to "keep playing with it."
So in that moment, I knew I had to drop my prepared questions, and just see what came out. I mean, I didn't want to go over board with this unplanned interview or he might roll away just as quickly as he rolled up!
Because of this, the quotes ahead are paraphrases of what Slomo said during our brief time with him.
I asked,
How did you come up with the ritual? The ritual of rollerblading every day?"
His eyes got wide, he smiled. "That is a great question!"
Slo Mo went on to say that he first discovered the magic of "acceleration" when he was skiing, and that our brains are wired to go into a positive trance-like state while we are in this kind of motion. This, he believes is why people love skiing, and surfing, and skateboarding, and rollerblading. I guess rollerblading was Slomo's way of translating the magic of skiing to the beach (smart move!).
Slomo has a couple of names for the feeling of total oneness he gets when rollerblading down the boardwalk. You might call it being "in flow," or simply loving what you're doing so much that you lose track of time.
He calls it being "in the zone," and even "The Kingdom of God."
Slomo said that when you get "in the zone" that you are no longer at the whim of your world, but instead the world responds to you. He said, he often notices when he is rollerblading, that babies stare at him, dogs will follow him, the birds will fly in line with him. Plus, people standing by often cheer.
"You experience it in your body; a feeling of total oneness."
Then he added, with a smile, "If Jesus were here today, he would put on a pair of rollerblades."
--
Interview Part Two: "I Made a Conscious Decision to Stop Being an A-Hole" 🙂
Slomo emphasized the importance of being awake in your life. "You don't have to be an asshhole in life," he said.
I looked at him and smiled, "You don't seem like an asshole."
I was surprised at his response.
"We can all slip back into it at any time. I used to be an asshole and I still have to watch myself...we all do. Many people just aren't aware of what they're creating. But you'll get that feedback somehow, whether you're unhappy all of the time, constantly stressed, or having a heart attack."
You must stay awake.
--
Interview Part Three: And Then He Shared the Meaning of Life
Talking to Slomo is like speaking to a wise teacher, a bright-eyed child, and a preacher all rolled into one.
He has a memorizing, almost-hypnotic rhythm to his speech, and once he knew that I was a friend, a loving person wanting to ask questions based on genuine interest and appreciation, he didn't need much prompting at all. In fact, this entire conversation was sparked from just my initial question, and then Slomo was on his way!
About halfway through our conversation, our dialogue took an even deeper, spiritual turn, as he spoke about the meaning of life via the Book of Slomo, and in riddle form 🙂
You, the Desert, and a Horse
"If you woke up naked in the desert, and when you came to consciousness you realized two things- first that you needed to get to water, and second that there was a horse in the desert too. What would you do? Would you look for water, or follow the horse?"
Then he shared another story:
Red Chips, Black Chips, and Your Most Important Move
Life is like a casino. Most people go up to place their bet, and they put half their chips on red and half their chips on black. You only have one bet. What would you do?
He ended by saying, "Ponder this until the next time you see me," and then, smiling, he skated away as fast as he came.
–
Enjoy this blog? Share with your friends!
Now, I want to know:
What's your take on Slomo?
What do Slomo's stories/riddles mean to you??