One of the things I stand for is helping talented mission-driven professionals attract ideal clients.
Not ANY clients. Not clients who pay, but won't show up on time. Not clients who show up on time, but won't pay. But rather, IDEAL clients who are fully committed to the result you provide through your service and allow you to do your best work. They are happy to pay you and engage the process.
But, I often hear professionals who want to grow their practice say, "I'll only take ideal clients, AS SOON AS I have enough income to do it." OR, "I'll stop discounting my services, ONCE I get to the next level."
The only problem is the act of taking on NOT-ideal clients and/or discounting is the very thing that will prevent you from getting to the next level!
You see, NOT-ideal clients have financial, emotional, and physical costs.
But how do you hold your value and stick to only-ideal clients, even when you are in the process of ramping up your biz?
Today, I want to share an outside-the-box, right-brained strategy that, in addition to courage, faith and lots of action taking, helped me fill my own business from 2 clients to over 20 clients in less than six months.
I didn't learn this from a class or a book. I just knew I needed an easier, more engaging way to get to my goals, while remembering my true value.
I want you to benefit from this too!
Step One: Create a visual representation of how many client spaces you have available. 10 clients? 20 clients? Decide on the number that makes you feel excited, and would support you financially, without making you burnt out.
Why do this?? Well, aside from knowing your limits, another reason. Whether you have zero clients or 10-- your time is precious and limited, and you can absolutely NOT afford to take just anyone. When you see a VISUAL representation of how many clients you can work with at a given time, you will see-- clear as day-- how valuable your time really is!
Let's be real: You do not have an unlimited number of spaces for clients, nor do you have an unlimited number of years on the planet. Your time is scarce. Let's make it count!
So for example, if you were just starting out and had 10 spaces, you could create a list like this:
1. ____________
2. ____________
3. ____________
4. ____________
5. ____________
6. ____________
7. ____________
8. ____________
9. ____________
10. ____________
Step Two: Create a physical representation for your ideal clients.
When I did this, I cut out 20 heart shapes from red construction paper. Each heart represented an ideal client. When a client signed up, I did a ceremony (consisted of writing client's name on the heart and taking a moment to feel gratitude), and posted it onto my board, taking up one of the client slots. Each one of these moments felt so good! A client was going to get helped, and I was one step closer to my goal of a full practice!
Step Three: Write the name of clients you have, as well as new signups, on your client placeholders and post it on your board.
1. Billy Bob
2. Suzie Q
3. _____________
4. _____________
etc...
Step Four: Notice how many spaces for ideal clients you have left.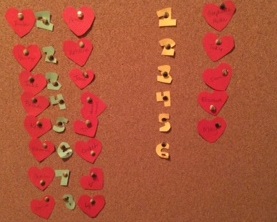 Whether it is construction-paper hearts, stars, a picture of a smiling person, or some other symbol, notice how many spaces you have left.
If you feel the urge to take on a NOT-ideal client or discount your service, look at your client markers! Notice their limited quantity and what they represent for you.
I dare you to remind yourself that your skills are worth quality clients.
I dare you to remind yourself every day.
I dare you to remember how valuable you are...even when you're not stressed, but just because you are amazing and deserve to feel good.
And my final dare (double dare?) for you is to channel that energy into outreach.
If you're great at what you do and serve a real need, the more people who know you, the more clients you'll get.
The more enrollment conversations you have, the more clients you'll get. It's that simple.
So take a look at those client placeholders one more time and remember those represent ACTUAL people who NEED YOU right now, but may not know you are out there.
Will you tell them?
--
Enjoy this blog? Share with your friends!
Now, I want to know:
What practices do you have to hold your value?
How do you remember your worth, especially in times of stress or uncertainty?
I'd love to hear from you in the comments below!