Last month I got to meet one of my mentors, world-renowned Marketing Coach, Speaker, and Author Michael Port!
In celebration of this and our 100th blog, when you are one of the first ten people to comment on this post, I'll send you a FREE copy of Michael's new book, "Steal the Show: How to Guarantee a Standing Ovation for All the Performances in Your Life" (and I'm talking the really nice hardcover version).
Okay, now a little background on my mentor meeting, and what it taught me about how YOU can Steal the Show: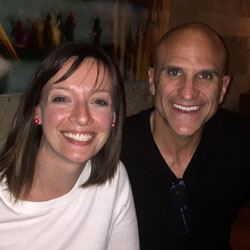 I met Michael at an event last month in Los Angeles after following him for the past 5+ years. If you've heard my story, you might know that I didn't always know I'd be an entrepreneur or think I could successfully run my own business.
But, I came across several people (and books) that expanded my belief of what was possible for me, and that I could make money doing what I loved, while being myself. Michael Port was one of those people and his first book, Book Yourself Solid, was one of those books.
So when I had an opportunity to fly to L.A. last month for a one-day event and get coached on stage by Michael on one of my talks, it was like a dream come true!
The inspiration, connection, and even the business I got as a result of attending and speaking made my investment in a VIP ticket beyond worth it (more about that later in the post).
And I realized that my biggest takeaways from this experience highlight things you can do right now to grow as a speaker, an influencer, educator, a business owner, and most importantly a kickass person!
Here are 3 Ways You Can "Steal the Show," to Powerfully Share Your Message and Grow Your Business
(as inspired by my experience at the Steal the Show Event in LA last month)
#1 Connect with Speakers Who Inspire You
Connect with speakers who inspire you on a regular basis. Jump on their webinars. Watch their videos. Attend live events when you can.
Just being around these mentors will fire you up, and when they speak, you will have a great opportunity to spot what is working and why. Pay attention to their content, how they move, how they transition from one topic to the next. Notice what they did that made you laugh or cry. Soak it in!
#2 Keep Learning & Growing
Never. Never. Never stop learning and growing! A Masterful Speaker knows there is always more. This doesn't mean you obsess about your weaknesses or being perfect, but rather, you understand that there are many levels to true artistry.
At the L.A. event, I got to be coached by Michael on one of my 15-minute signature talks; fun for me as I help hundreds of business owners create their 15-minute signature client-attracting talks in my program, Free Talks that Sell.
My takeaways from being coached helped me know what to focus on when I am polishing my talk, like vocal variety, blocking for a large stage space, and even a simple technique to increase audience engagement, that took the audience response from clapping to CHEERING!
Without a doubt, every performance experience you put yourself into, every class, and training can elevate your speaking even more than before.
Yet, one of the biggest things I got from my on-stage coaching experience was validation, particularly about one of my favorite mantras:
#3 Give Your Audience More than Information. Give them an Experience!
This is the heart of a signature approach I teach in my speaking program for entrepreneurs and something that was validated on a very personal level at the L.A. event.
While information you share in your speaking is important (strategies, facts, etc.), something even more important is that you GIVE YOUR AUDIENCE AN EXPERIENCE.
Case and point:
I only got about 5 minutes through my prepared talk and then Michael workshopped parts of this with me for about half an hour. You can imagine this kind of like repeating the introduction over and over, with slight variations.
The result? I presented before lunch and there was still 5 hours of event to go, and after I spoke, people were coming up to me throughout the rest of the day, saying, "What you said moved me." "I'm inspired!" "Can we stay in touch?" and even one person felt so connected with me from what I presented- that two weeks later, he flew up to Portland from L.A. for a VIP Day with me to help him with his speaking. An unexpected surprise!
I want to re-iterate that, although I had 3 strategies I would have shared in the core content of my talk, I didn't even get to that, and people were still moved!
Which is why I want to share how I did that. I used my Skyrocket Your Sales- Transformational Blueprint to create the content, and I'll be sharing that blueprint in my upcoming Skyrocket your Sales through Speaking Webinar. Sign up to attend and get the blueprint here!
And now, you might be thinking..."Didn't you say something about a free hardcover copy of Michael's new book?"
Yep!
If you are one of the first ten people to answer the prompts below on the comment thread...
I'll send you a brand new hardcover copy of "Steal the Show: How to Guarantee a Standing Ovation for All the Performances in Your Life," for FREE- no strings attached- simply enter the email you'd like me to contact you at when you comment (only I receive this info). No need to include your address in the comments, let's keep that private. I'll email you 🙂
Now, I want to know:
In what personal or professional situation would you like to take your speaking skills to the next level?
Why is it important?
How will you know you're making progress toward that goal?
I look forward to seeing your comments below, and for the first ten people...sending you a free copy of an amazing book! If you don't make the "first ten" mark, grab a copy of Steal the Show by Michael Port here »
xo,
-Danielle